World Hematology 2020 Meeting &amp Hospitality
Address
Holiday Inn Edinburgh
132 Corstorphine Rd, Edinburgh EH12 6UA
Edinburgh, Scotland, UK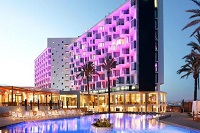 The City
With a great enthusiasm, we are now hosting the World Hematology 2020 in Scotland, UK.
Edinburgh, Scotland's most populous city and UK's 2nd most popular tourist destination is also the 2nd largest financial centre in UK after London. The city has many historical and cultural attractions making it one of the most popular holiday destinations. March would be one of the best times to visit Edinburgh, with daffodils, bluebells, cherry blossom and rhododendrons bursting into bloom. It also has a fantastic collection of theatre shows, rugby tournaments, markets & fairs, galleries, exhibitions, etc to explore during March.
Edinburgh has also got the main NHS Lothian hospitals which includes the University of Edinburgh Medical School, and the Western General Hospital, that provides one of the best cancer care. The Cancer Research UK Edinburgh Centre also offers training in research for postdoctoral fellows open to all nationalities, getting into which is highly competitive. The centre also aims to be world class bringing innovation and twists to cancer science, drug development and clinical translation.
Directions
Route Map